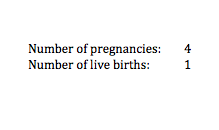 Let me start by saying that I am not sharing my experiences so you can feel sorry for me, or that you should feel awkward asking me about it. I'm sharing my experiences because I know so many women who go through this in silence. I understand why, but I also don't want other women to feel like they are alone in their struggles to have a family or have another child.
I know there are some of you reading this who have suffered greater losses than I have. My story and experiences may not resonate with you and I don't expect them to. I do know that you are strong, you are brave, you are a mother, you are loved, and you are not alone.
My First Exposure to The Topic of Miscarriage
I attended a church retreat between my senior year of high school and freshman year of college. It was a three-day women's only retreat. During the retreat we listened to different speakers and talks while seated at round tables in small groups whom we shared conversations and stories with. This was the first time I was exposed to the reality of miscarriages. I remember multiple women crying and sharing their struggles and stories and I felt really sad for them. In that moment I thought, "wow; I can't believe in such a small group of people that so many of them have experienced the same thing." After the retreat was over I didn't think much of it anymore because I was at a different place in my life, eighteen years old, not sexually active; no thought of having a child or becoming pregnant in the near future. However, I think about that retreat and that one moment in particular from time to time.
Fast forward 15 years later; I have many friends who have gone through miscarriages or have lost a child postpartum just a few days/weeks old. And aside from a few of them– no one talks about it. I understand why, it's a very private, emotional journey. But it's also a reality and there are so many people out there who feel alone because all they see are the complete, happy family pictures; rarely ever do we hear or see the struggles in between. And I think it's important to share that there is hope in loss.
My First Miscarriage
Becoming pregnant (when we try to conceive during ovulation) is not a struggle for me. Staying pregnant is. Rick and I started planning for Baby #2 this summer and we decided to start trying. I got pregnant; had two positive pregnancy tests and three days later I was bleeding. It was over as soon as it started. And I felt ok with it because I didn't even have a chance to really process it. Home pregnancy tests are so sensitive that even the slightest rise in HCG can give a positive result; even before there's an actual sac present.
My Second Miscarriage 
We waited until my next ovulation cycle and tried again. I waited longer than the previous time to take a pregnancy test because I didn't want to get my hopes up. I felt like I was pregnant though. I can tell in my workouts; they're not the same; I'm not able to push as hard as I normally can. And my nipples, they always know. They're like the first thing to tell me what's going on.
Two positive pregnancy tests. Waited a few weeks to make an appointment with my OB. Started bleeding heavily before I even made it to my first appointment. They estimated I was between 6-7 weeks along; so still fairly early – but nonetheless, very disappointing and disgusting.
I didn't know what to expect. I didn't know how much bleeding was "normal" or if the amount of clots I was passing was safe. I spoke to the nurse at my doctor's office on July 3rd. Because it was 430pm and the next day was a holiday and their offices would be closed, she told me I needed to go to the emergency room. So I went and got poked and prodded, a vaginal ultrasound and lots of lab work. I was sent home with giant pads and was supposed to just let the rest pass as normal.
I had a follow-up appointment with my gynecologist a week later to figure out a plan of action since I had back to back miscarriages. When I was pregnant with Pepper, you may recall I blogged about having to use progesterone vaginal suppositories the first trimester to sustain the pregnancy. For some reason on Day 21 of my cycle my progesterone is at an acceptable level:12. But when I get pregnant it dips down to 5. The plan of action was to call the doctor immediately when I get a positive home pregnancy test to get labs done and get on the progesterone suppositories again.
An Emotional Break and My Fourth Pregnancy
Rick and I decided to take a break for a few months to give ourselves an emotional break. Once we started to try again I got pregnant. This time I had three very positive home pregnancy tests and called the doctor to get my labs done ASAP. I started back on the progesterone suppositories and was scheduled to go in for appointments every two weeks. After a week on the progesterone my levels had doubled and were in the "safe" range. Great news. I went in for my next visit at 8 weeks and 5 days – everything was on track; my OB said "Congratulations!" and we scheduled my next visit for two weeks later.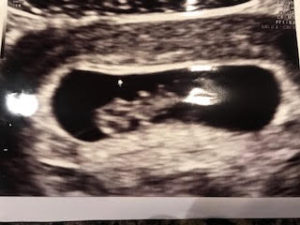 During this time Pepper knew I was pregnant. She went to the ultrasound with me and saw "the tiny baby on the screen." And because she follows me in the bathroom she saw me put the progesterone suppository in the applicator and asked what it was. I told her, "these are momma's vagina pills to help keep the baby growing inside my belly." We are very honest with her. If she asks a question; we tell her.
At home she'd talk about her "little sister." We didn't know the sex but she said "little sister" anyway. It was so sweet. Spontaneously one day in the bath tub she said,
 "Mommy, I love you. And I want the baby to stay in your belly so I can see her."

Me: "I know, boo boo. Me too. We have to keep praying about that."

Pep:" God bless the baby in mommy's tummy. Keep it in there."

Me: "awww Pepper; that's so very sweet and makes me really happy. God hears our prayers and He answers them."

Pep: "God keep the baby safe in mommy's belly so I can play with it."
My heart melted. Hearing her sweet voice pray over her baby brother or sister made me want her prayers to be answered more than anything in the world.
My next check up was Wednesday, October 7th (10 weeks and 5 days). Pepper asked to come with me so she could see the baby on the screen. We walked back into the sonogram room together. This tech was one of my favorites. She was always very chipper and had praise and worship music playing softly in her office. She started the ultrasound and was eerily more quiet than she's ever been. She turned the volume up to hear the heart beat and then turned it off quickly. I didn't hear anything. She turned it on and off again before I could hear a beat. Then she said, "I'm going to do a vaginal ultrasound to get a better look." Meanwhile Pepper was asking to "see the baby on the screen." I knew in my heart that something was wrong. The technician took the vaginal ultrasound out and said, "I'm very sorry but I couldn't find a heartbeat. The ultrasound is measuring 9 weeks and 5 days. It appears that the baby stopped growing sometime last week."
She walked Pepper and I back to the room I met my OB in. The news didn't really stick until my doctor walked in, gave us a hug, and told us she was so very sorry. I instinctually answered, "It's ok." And she said, "No; it's not ok. I'm upset for you; I'm sorry about this. I was really excited for you guys and was hopeful about this one." And I started crying; because she was right. It was not ok, I didn't need to be ok. I was disappointed and sad, and I was sad for Pepper, too. She gave me the option to have a DNC or to let the baby miscarry on it's own. Judging by the amount of bleeding I had with my last miscarriage I knew I didn't want to go through that again with a baby who was three weeks older and more developed. She said she's seen some people not miscarry for a month after; and the thought of having a dead baby inside me for another month seemed morbid and sad. Plus; the DNC would allow me to send off the tissue to a lab to get it genetically tested – and to hopefully answer some questions about what happened.
Before I left my appointment my doctor made sure to remind me, "THIS IS NOT YOUR FAULT. THIS IS NOTHING YOU DID." In a previous appointment (because she knew my concerns with having a miscarriage) she told me, "You cannot give yourself a miscarriage. You can't stress yourself into one. You can't workout too much. You can't lift too heavy. You can't eat the wrong things. If you smoke crack cocaine; then yes – you can maybe have a miscarriage – but otherwise; don't worry." And that gave me comfort. And it still gives me peace to know that.
After my appointment I called my mom on the way to tell Rick and sobbed. Once I saw Rick and we talked about it and I cried some more. We cried together. Being this much further along than the last two and almost through the first trimester made us that much more hopeful that this pregnancy would happen. We both agreed to have the DNC done as soon as possible. We scheduled it for first thing the following morning. That night I didn't sleep very well. Thoughts of not being able to announce to our families on Thanksgiving that we were having a baby crossed my mind. I started sobbing. I woke up at 430am to be at the hospital by 530am and cried while getting ready. As I was checking in at the hospital I cried some more. I'm typically pretty good at pushing down my emotions, but they were real and there was no hiding them with this. The reality of checking into the same hospital where I had Pepper, to have a non-living baby taken out of me really started to sink in. It was a very emotional morning and all the while I kept thinking of friends and family who have gone through much worse – I couldn't even imagine how devastated they were if I was this sad with just a 10 week old baby; I can't even compare to what they went through. This was also the same day as the mass shooting in Southern California and I knew those people were going through more pain than I was as well – and it put things in perspective but didn't minimalize my situation either.
Here I am writing this the day after my procedure – some may think it's too soon. But for me this is a way of healing; to share my story and to just write it out and see it helps me process it. One of my friends shared this with me last night. Her worship pastor shared this on his Facebook page two years ago when he and his wife went through the same thing,
"Blessed be the God and Father of our Lord Jesus Christ, the Father of mercies and God of all comfort, who comforts us in all our affliction, so that we may be able to comfort those who are in any affliction, with the comfort with which we ourselves are comforted by God." 2 Cor. 1:3&4

I prayed this passage over our church on Sunday not knowing that I would need to cling to this truth today. 2016 has been a hard year for Staci and I. In January, the Lord gave us a sweet 7 week old girl Hattie Mae and then called her to Himself… He also gave us a 16 week old Ezra Lee and then called that sweet baby to Himself. Both were miscarriages, both were our kids we loved deeply, and both have been hard to walk through.

We do not know exactly why this is happened but what we do know is that GOD IS GOOD. He is still on His throne. He is near to the broken hearted and cares deeply. He is our great high priest who sympathizes with us. He's the God of all comfort. And Today, God has two little worshippers standing around His throne… And He used my brides womb to create just that; little worshippers.

God is writing our stories as He sees fit. He does nothing without purpose and we mourn and grieve today not without hope, but with hope knowing He is completing His good work in both of us. We are promised suffering and this is ours this week; this year.  Staci and I both want to tell both the sweet and hard parts of our story…"
I've prayed for God's will through all of my pregnancies. I pray, "lay your hand upon my womb. Keep the baby growing according to your plan and purposes." I don't pray for my plan. I don't pray for my purpose. I trust that He has that under control. I know God made me physically, mentally, emotionally, and spiritually strong. I trust that His plans are greater than mine. I know this will be a long process. We still have to wait for the results to come back from the DNC and after that I will most likely be sent to a specialist to see what's going on. On Wednesday I told the doctor, " I don't think I want to try again. I don't want to go through this anymore." But today I am holding onto hope that our family's story is not over. And if you are going through the same thing I want you to be hopeful too. I want you to know that you are not alone, and if you need someone to talk to please don't hesitate to reach out.